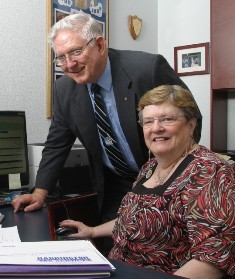 Welcome to Harrington Financial Services!  Our company provides a wide range of financial services to businesses and individuals here in the Western States.  
Anchoring our services is our strong income tax division, Harrington Tax Services.  With 25 years of solid experience, serving of thousands of individual clients, in addition to numerous corporations and partnerships, our multi-state tax preparation services continue to provide dependable, trusted tax preparation, planning and representation services on a year-round basis.
Also helping to anchor our Harrington Financial Services has been our highly-respected Accounting division.  Sharon Harrington, MA, EA, ABA, CSA, combines a Masters degree in Accounting & Business Law with other impressive national accreditations and credentials, plus 45 years of accounting and tax experience.  She continues to head up our capable accounting services.  Sharon Harrington is not affiliated with Securities America.
Our main office also serves as a branch office of Securities America, Inc.  It is located at 2580 Highway 95 Suite 118 in Bullhead City.  Art Harrington, Investment Advisor Representative, offers stocks, bonds, mutual funds and IRAs.  Art is licenses to offer securities in the states of Arizona, Nevada, Colorado and New Mexico.  Securities are offered through Securities America, Inc., a Registered Broker/Dealer, Member of FINRA/SIPC.  Arthur R. Harrington, Registered Representative.  Advisory services are offered through Cooper McManus.  Cooper McManus is a SEC Registered Investment Advisory Firm.  Harrington Financial Services, Cooper McManus and Securities America are not affiliated.
For information about any of these and other financial services, please call us at (928) 763-1440, or via our national toll-free number (1-888-888-9146).  Our fax number is (928) 763-2088.  Or you may reach us by E-Mail by clicking on one of the services listed on your screen, and type in your message.  We will be happy to get back to you as quickly as possible.
We look forward to being able to serve you.
Sincerely,
Arthur R. Harrington, E.A., Ph.D.

President
Members of: NSTP • ACAT • NSA • AAATP
Common valuation methods and how small-business owners can get the best price when selling their businesses.

How unit investment trusts operate and potential investment risks.

Common types of financing that might be available to help small businesses expand or cover operating expenses.

How current trends in the retail industry could affect consumers, workers, and the broader economy.